WHAT LEISURE ACTIVITIES TO DO IN CALAFELL?
Summer is coming and Calafell is full of possibilities to do different leisure activities both on the beach and in its surroundings. Discover a different way of enjoying the good weather that characterizes this time of year, where Calafell is undoubtedly one of the favorite destinations.
If you want to spend a different and fun day on the Costa Daurada, here are some ideas for activities to enjoy an unforgettable visit to Calafell with your family, partner or friends.
Calafell Sailing School
One of the most common leisure activities are water activities. Calafell stands out for its wide and famous beaches, where you can enjoy an infinite number of maritime activities.
You can do one of them at the Calafell Sailing School. This is designed for both children and adults. The Calafell Sailing School is located in the port of Segur de Calafell, which you can easily access. Here you can learn to navigate with sailing boats of different sizes and modalities.
And if sailing is not your thing, they also have a wide variety of activities for all tastes, levels and ages, such as catamaran getaways, windsurfing or paddle surfing. In addition, they also have a jet ski rental service, the fun banana boats or the impressive flyboard.
And if your idea is to visit Calafell in summer, the Calafell Sailing School, organizes an Esplai de mar for children, a children's camp aimed at learning to navigate and with many related water activities, where the little ones can enjoy a different summer and learn about the sea in a fun and unique way.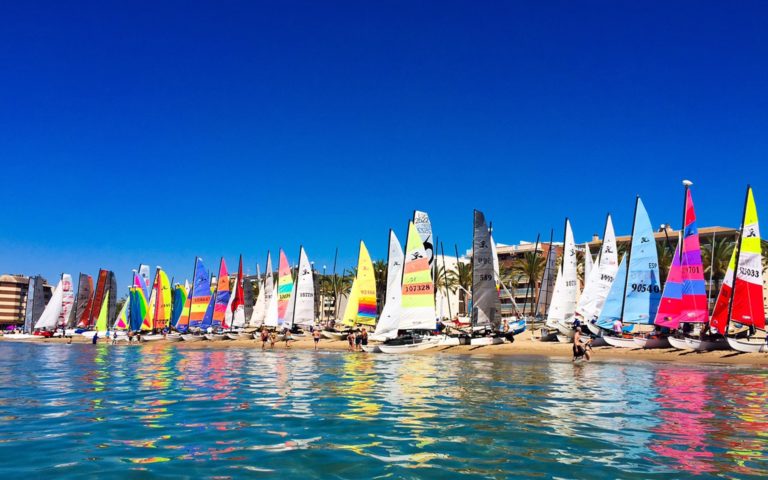 Calafell Adventure Park
Calafell Adventure Park it is an amusement park for the whole family, located next to the Calafell train station. In it you will find a great diversity of activities to do as a family, from zip lines and attractions, to mini golf. In addition, in the park facilities you can find restaurants where you can rest and eat during the day of activities in the park.
This activity that we propose stands out and is recommended to go with children, since Calafell Aventura Park is perfectly adapted for the smallest members of the family, as well as being a perfect opportunity to spend a different day with them in which they will enjoy nature and the various activities offered.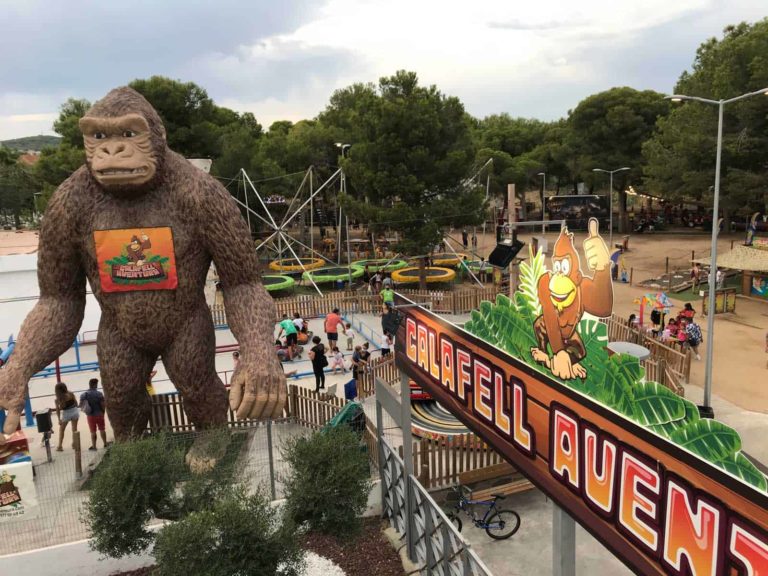 Calafell Slide
Surely you will not be indifferent to the Calafell Slide, a giant summer toboggan slide of more than 700 meters located on the Escarnosa mountain, in front of the old town of Calafell.
This activity is perfect for those who like action, adrenaline and having fun at the same time. The trips down the slide are easy, fun and safe, since you can control the speed at all times, so it is designed so that all family members can enjoy it.
In addition, at Calafell Slide they have a terrace with beautiful views and a bar where you can enjoy cold drinks and tapas. Without a doubt, it is the ideal place to have a good time with family, friends and in a group.
Calafell Water Experience
You cannot leave Calafell without first visiting the Calafell Water Experience, the perfect place to practice your favorite water sport. Located in the port of Segur de Calafell, there you can find a team of professionals who are passionate about sports, the sea, adrenaline and fun.
If your idea is to spend a different day in Calafell in contact with the sea, here you can rent jet skis and do activities such as jet skiing, flyboarding or the fun banana ride.
Calafell Fishermen's Association
This last activity is a little different from the previous ones and is designed for people who like history and discover how people used to live in the towns in the past.
The old Calafell Fishermen's Guild has become the interpretation center of the Calafell fisherman and its mission is to tell a part of the collective past and the most recent history of the maritime district of this town.
In this cultural space you will be able to discover what life and the structure of the fishing community were like, as well as the tasks they carried out both at sea and on land, in the last century.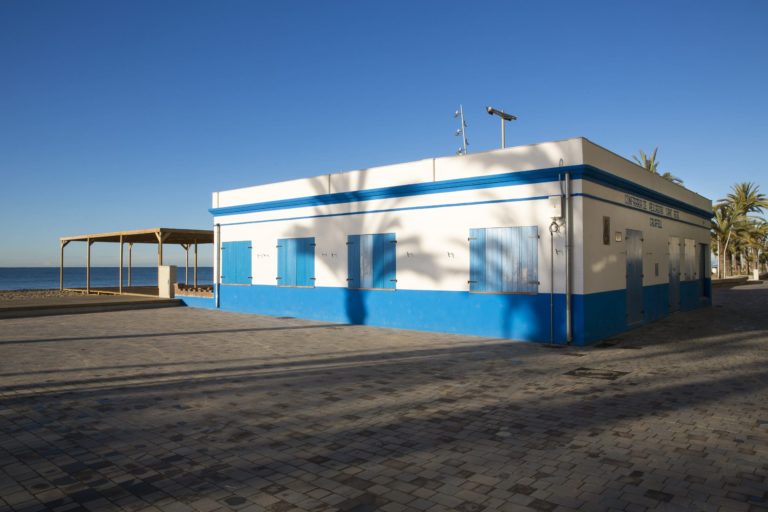 These are some different activities that you can do during your visit to Calafell while enjoying its wonderful beaches and being in contact with nature. And if, even so, you still want more, do not hesitate to ask at our reception at the Hotel Akquaaa, where our team of professionals will be happy to guide you and make your stay an unforgettable experience.
Do not hesitate to get to know for yourself all these benefits and more through Akquaaa Boutique Hotel and its facilities on the seafront.
Enter the reservation section of the website and do not miss out on your dream room www.akquaaa.com
Experience it first-hand at Hotel Boutique Akquaaa